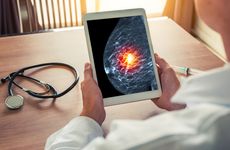 NEW YORK – The US Food and Drug Administration on Friday approved AstraZeneca and Daiichi Sankyo's Enhertu (trastuzumab deruxtecan) for previously treated patients with unresectable or metastatic HER2-low breast cancer.
This is the first targeted therapy approved in the HER2-low breast cancer setting. The approval is based on data from the Phase III DESTINY-Breast04 trial, in which patients with previously treated, hormone receptor (HR)-positive HER2-low breast cancer on Enhertu saw a 50 percent lower risk of disease progression or death compared to patients on physician's choice of chemotherapy. Median progression-free survival was 10.1 months in the Enhertu arm and 5.4 months in the comparator arm, and median overall survival was 23.9 months and 17.5 months, respectively.
The overall study population included HR-positive and some HR-negative patients, and outcomes were similar when triple-negative breast cancer were included in the analysis. Median-progression free survival was 9.9 months on Enhertu and 5.1 months on physician's choice of chemo, while median overall survival was 23.4 months and 16.8 months, respectively.
The data from DESTINY-Breast04, when presented at the American Society of Clinical Oncology's annual meeting in June, got a standing ovation from oncologists. Historically, the around 60 percent of patients with low or no HER2 expression — reflected in an immunohistochemistry result of 1+, or IHC 2+ and negative by in situ hybridization — have been considered HER2 negative and ineligible for HER2-targeted treatment.
While Enhertu is now an option for this subset of patients, reliably identifying all eligible patients may be challenging. Labs haven't had to identify HER2-low expressing patients for therapy selection and pathology experts have said there is presently variability between labs in how accurately they can identify this subgroup. The FDA did not approve Enhertu for HER2-low breast cancer patients with a companion diagnostic, though there are many tests on the market. In the DESTINY-Breast04 trial, patients had their HER2-low expression confirmed by a central lab.
The FDA's decision comes well ahead of the expected time frame. During AstraZeneca's Q2 earnings call last week, the company said it was expecting the FDA to make a decision on this application in Q4.
"Today's approval highlights the FDA's commitment to be at the forefront of scientific advances, making targeted cancer treatment options available for more patients," Richard Pazdur, director of the FDA's Oncology Center of Excellence, said in a statement. "Having therapies that are specially tailored to each patient's cancer subtype is a priority to ensure access to safe and innovative treatments."
Enhertu is already approved in the US as a treatment for unresectable or metastatic HER2-positive breast cancer and locally advanced or metastatic HER2-positive gastric or gastroesophageal junction cancer. In May, the drug's indication was expanded to include second-line therapy for HER2-positive breast cancer in the US.
In July, the drug was also granted approval in Europe as a second-line therapy for HER2-positive breast cancer. Daiichi Sankyo and AstraZeneca's submission for Enhertu in HER2-low breast cancer is currently under review by European regulators.