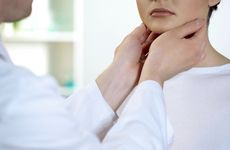 NEW YORK – The US Food and Drug Administration on Tuesday granted accelerated approval to Genentech and Blueprint Medicine's RET inhibitor pralsetinib (Gavreto) for patients with advanced or metastatic RET-mutant medullary thyroid cancer or RET fusion-positive thyroid cancer.
This is the second precision medicine option for patients with these types of cancers, following the FDA's approval of selpercatinib (Eli Lilly's Retevmo) in May.
Patients with both types of thyroid cancer must require systemic therapy to be eligible for the drug, and patients with RET fusion-positive thyroid cancer must have experienced disease progression after treatment with radioactive iodine, if appropriate.
The FDA approval is rooted in data from a Phase I/II basket trial, dubbed ARROW, in which patients with certain solid cancers, including RET-altered non-small cell lung cancer and myriad other RET-altered tumors, were treated with pralsetinib. The FDA used data from this same study to grant accelerated approval to the drug in September for RET fusion-positive NSCLC.
The primary aim of the Phase I portion of the trial was to assess the drug's safety and maximum tolerated dose, while the goal of the trial's Phase II expansion portion was to evaluate patients' overall response rates. Secondary endpoints evaluated in the trial included patients' duration of response, progression-free survival, and overall survival.
The outcomes of medullary thyroid cancer (MTC) patients were stratified according to patients' prior treatment. Of the 55 patients with RET-mutant MTC who had previously been treated with cabozantinib (Exelixis' Cometriq), vandetanib (Genzyme's Caprelsa), or both, the overall response rate was 60 percent, and 79 percent of patients' responses lasted at least six months. Among 29 patients with RET-mutant MTC who had not previously received either of these drugs, the overall response rate was 66 percent, and 84 percent of patients' responses lasted at least six months.
The cohort of patients with RET fusion-positive thyroid cancer was much smaller than the MTC cohort, involving only nine evaluated patients. Nearly 90 percent of patients in this cohort saw their tumors shrink on pralsetinib and all of their responses lasted at least six months. The median duration of response, as well as patients' median progression-free survival and overall survival outcomes, were not available for any of the cohorts evaluated by the time the drug was approved. However, since the FDA granted accelerated approval for this indication, the drug sponsors may need to submit data from confirmatory trials to demonstrate pralsetinib's continued clinical benefit in this setting.
Researchers presented the thyroid cancer data from ARROW during the European Society for Medical Oncology's virtual meeting in September. At that time, David Raben, Genentech's VP of oncology product development, shared in an interview that the company was expecting the FDA to approve pralsetinib for thyroid cancer during the first quarter of 2021. The agency's decision has come three months earlier than anticipated.
Patient identification, strategic partnership
RET-altered thyroid cancers are rare; approximately 10 percent to 20 percent of papillary thyroid cancers are RET-fusion positive, and although the majority of MTCs do have RET mutations, MTCs in general only comprise three percent of thyroid cancers. Accordingly, Raben stressed that identifying those patients who may be eligible for treatment with pralsetinib is a priority for Genentech and Blueprint.
In the ARROW clinical trial, patients were tested for RET gene alterations using next-generation sequencing, fluorescence in situ hybridization, or other locally performed tests, though Raben did not share whether the FDA was expected to approve a companion diagnostic alongside pralsetinib in the thyroid cancer setting in the same way the agency approved Thermo Fisher Scientific's Oncomine Dx Target Test to identify metastatic NSCLC patients with RET fusions who may be eligible for pralsetinib.
However, Raben did say that the large, multi-gene NGS sequencing panels offered by Foundation Medicine, which like Genentech is a Roche subsidiary, may "allow [Genentech] to rapidly screen patients and be able to get that information" about RET alterations. According to the test's technical specifications, Foundation Medicine's FoundationOne CDx can detect RET substitutions, insertions and deletions, copy number alterations, and gene rearrangements in introns 7-11. 
In July, Roche entered into a strategic collaboration with Blueprint to co-commercialize pralsetinib for RET-altered tumors, and in a September investor call, Blueprint said that the partnership was "grounded in ensuring that patients have access to pralsetinib globally, as quickly as possible." According to Raben, Roche's global footprint — and, indeed, Foundation's testing capabilities — were strategic considerations in the deal.
"I think [access to NGS] is going to be really important from a biomarker testing standpoint, in terms of being able to offer patients the opportunity to actually receive the drug," Raben said. "We're looking at a variety of channels to really maximize adoption of access to these high-quality biomarker tests for RET fusions, as well as for ALK and ROS1 fusions."
Genentech also has agents in its portfolio that are approved for patients with ALK, ROS1, and NTRK fusions, including entrectinib (Rozlytrek), which is approved for ROS1 fusion-positive NSCLC and NTRK fusion-positive solid tumors. Accordingly, the ability to simultaneously test patients for multiple biomarkers has the potential to benefit Genentech beyond pralsetinib. Foundation Medicine's FoundationOne CDx is one such broad-based NGS test that could accomplish this.
Competitive advantage
Pralsetinib is not the first RET inhibitor approved to treat patients with thyroid cancer. In early May, the FDA granted accelerated approval to Eli Lilly's selpercatinib for three indications, including the same two thyroid cancer indications for which pralsetinib was just approved, as well as for RET fusion-positive NSCLC. While cross-trial comparisons are imperfect, the response rates seen with selpercatinib in both RET-mutant MTC and RET fusion-positive thyroid cancer in the LIBRETTO-001 study appear similar to the response rates seen with pralsetinib in ARROW.
Still, Genentech's Raben and a Blueprint representative underscored that having multiple treatment options in any given cancer setting is good for patients. They both also mentioned that pralsetinib's once-daily dosing schedule versus selpercatinib's twice-daily regimen as one possible advantage for patients.
"As a patient, being able to take an oral medication once daily is really a game changer," Raben said. "With the pandemic and all of its challenges … to be able to simplify treatments and offer an oral medication that's easy to remember and simple to take, really speaks to not just the customization of the actual cancer drug but the way we care for our patients and make it as easy as possible for them to take a lifesaving drug."