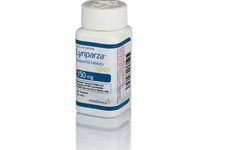 NEW YORK (GenomeWeb) – The European Commission has approved AstraZeneca and Merck's olaparib (Lynparza) as a maintenance treatment for patients with ovarian, fallopian tube or primary peritoneal cancer if they've responded to first-line, platinum-based chemotherapy and have germline or somatic BRCA1/2 mutations. 
Although the goal of front-line therapy is to achieve long-term remission, around 70 percent of advanced ovarian cancer patients relapse within three years, according to Dave Fredrickson, executive VP of the oncology business unit at AstraZeneca. "This approval sets the stage for a new standard of care in the EU for women with advanced ovarian cancer and a BRCA mutation," he said in a statement.
The EU approved olaparib in this setting based on data from the randomized, double-blinded Phase III SOLO-1 trial comparing olaparib as maintenance monotherapy against placebo in around 400 patients with BRCA1/2 mutated advanced ovarian cancer following first-line platinum-based chemotherapy. In the study, olaparib reduced the risk of disease progression or death by 70 percent versus placebo. "The progression-free survival benefit of Lynparza observed in SOLO-1 represents a major step forward in our ambition to help improve patient outcomes," Fredrickson said in a statement.
In the EU, olaparib is the only PARP inhibitor approved for this indication, and this the third approval for the drug. AstraZeneca and Merck are also exploring olaparib in combination with Genentech's bevacizumab (Avastin) in the Phase III PAOLA-1 study, evaluating it as a first-line maintenance treatment option for advanced ovarian cancer patients regardless of BRCA status.
The US Food and Drug Administration in December 2018 approved olaparib for the same first-line maintenance treatment indication in BRCA-mutated patients who responded to platinum-based chemo. Although the drug is approved for those with germline or somatic BRCA1/2 mutations, the FDA has approved Myriad Genetics' BRACAnalysis CDx, which gauges germline mutations only, as a companion test for the drug in this setting.
Myriad also markets a Tumor BRACAnalysis CDx that can gauge BRCA1/2 mutations in tumor tissue that is CE marked but not FDA approved. The company established a lab in Munich, Germany in 2014 to perform this and other tests for patients throughout Europe. There are also other regional and commercial labs that perform BRCA testing in Europe.