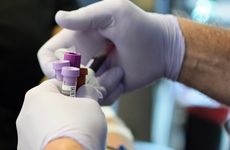 NEW YORK (GenomeWeb) – As evidenced by the swollen ranks of liquid biopsy abstracts, posters, and presentations at this month's annual meeting of the American Association for Cancer Research, the field has become strongly enthusiastic for non-invasive technologies that analyze or query the molecular makeup of a patient's cancer via circulating cell-free DNA.
While the conference featured key presentations from some of the more conspicuous companies in the space — early cancer detection firm Grail, for example — a broad diversity of purpose, methodology, and technology also highlighted how heterogeneous the market for these tools remains.
Over the last year, as ctDNA testing has been adopted for the first time into certain areas of clinical practice (like EGFR mutation detection in non-small cell lung cancer), researchers have turned more of their attention to demonstrating various platforms in other areas of oncology, like disease monitoring, assessing drug efficacy (either in the pharmaceutical development setting or in clinical practice), and predicting prognosis in early-stage disease.
As a result, commercial firms are now jockeying both for applications in these expanding clinical research areas and for prominence and adoption into newly established clinical niches.
Although clinical oncology is increasingly adopting broader upfront molecular testing strategies, many areas of practice still embrace stepwise testing of specific molecular markers and specific drugs. Reflective of this, liquid biopsy companies are continuing to develop and promote defined single-gene or single-mutation assays, several of which were featured in research presentations at AACR.
In a mini-symposium, investigators working with BioCartis, for example, shared data from their analytic validation of an application of the company's Idylla platform to blood-based BRAF, KRAS, and NRAS mutations to guide the use of EGFR inhibitor therapies in patients with colorectal cancer.
BioCartis said last November that it had received CE-IVD marking for two liquid biopsy kits for RAS mutations in ctDNA from patients with metastatic colorectal cancer. The company has also announced plans with Amgen to advance its RAS panels in the US for tissue testing, but so far not for liquid biopsy.
In its new data at AACR, BioCartis reported that it could pick up about 90 percent of RAS mutations that were detected by plasma next-gen sequencing, and close to 80 percent of those present in a matched tissue sample across a 200-patient clinical cohort. In a subset of patients with more advanced cancer — liver metastases and high levels of circulating cell-free DNA — the agreement between blood and tissue analyses rose to over 92 percent.
Researchers also continue to experiment with digital PCR methods like BioRad's Droplet Digital platform.
In a poster presentation, investigators from Brigham and Women's Hospital and the Dana Farber Cancer Center reported on their development of a clinical-grade ddPCR assay to detect and quantify ctDNA KIT mutations associated with therapy resistance in patients with metastatic gastrointestinal stromal tumors.
According to the authors, GIST treatment is being dramatically changed by the availability of genotype-directed therapies. In the case of KIT, mutations in the gene correlate with prognosis and predict clinical activity of tyrosine kinase inhibitors, such as imatinib. Importantly, acquired mutations in the gene are also indicative of emerging resistance to imatinib.
Based on their results, the investigators said that their ddPCR method showed a sensitivity down to just five KIT mutation copies in a background of 10,000 wild-type molecules, depending on the mutation assayed, and the team is now using the approach in an ongoing study to serially monitor GIST patients and hopefully detect resistance earlier to help guide treatment changes.
BioDesix also had a poster up at the meeting highlighting the value of ddPCR for multiplexed (but still single-gene targeted) analysis of EGFR mutations, reporting on the performance of its GeneStrat assay for the detection of EGFR exon 19 deletions.
On the other end of the spectrum, companies offering technologies or clinical testing services that profile much larger areas of the genome are also continuing to amass evidence for their analytical performance and lay groundwork in new clinical arenas.
Guardant Health, for example, shared data on the performance of its 500-gene GuardantOMNI panel, as well as a report on its methodology for distinguishing clonal drivers from resistance mutations in ctDNA sequencing data.
Researchers working with the company also shared an analysis of more than 30,000 patients tested using the company's clinical test Guardant360, which allowed collection of what authors believe to be the largest cohort yet collected of treated patients harboring RET alterations.
In 32,991 consecutive patients tested by Guardant between 2015 and 2017, investigators identified 175 somatic activating RET alterations in 170 patients with non-small cell lung, breast, thyroid, and a handful of other cancers. Amongst the takeaways from the analysis were discoveries of new ways that RET aberrance and other molecular pathway disruptions can occur in congress. The researchers also found evidence that specific RET fusions may contribute to anti-EGFR therapy resistance in NSCLC.
Although Guardant was one of the first companies to launch a commercial liquid biopsy test that profiled a wider panel of genes, it has since been joined by other firms and by academic institutions in exploring broad sequencing of plasma DNA.
A team from Memorial Sloan Kettering Cancer Center, for example, reported at AACR on the design of its own cfDNA NGS panel, based on prospectively collected clinical sequencing data from more than 20,000 patients tested using the center's comprehensive tissue sequencing test MSK-IMPACT.
Authors wrote that they narrowed down to exons harboring hotspot mutations, clinically actionable mutations, and those that have elevated somatic mutation rates for inclusion in the cfDNA panel. But they also included non-coding content to help detect copy number alterations, regions of loss of heterozygosity, rearrangement breakpoints, and microsatellite instability.  
In a hint of areas where the cfDNA panel may be applied, MSKCC investigators also presented a study in which they used the larger MSK-IMPACT test to detect microsatellite instability in blood samples, as a way to identify Lynch syndrome in patients with cancers that are linked to the disorder.
Investigators first determined thresholds to delineate MSI cases from microsatellite-stable cases in blood-based mutations. Testing the method, they successfully detected MSI in the plasma of four patients with known MSI-H cancer, including one with confirmed Lynch syndrome.
Other technologies offer a middle ground between very broad and very narrow analysis, for example, Inivata, which is advancing a small multi-gene panel focused specifically on lung cancer.
One poster at the meeting included data from the analytic validation of Inivata's InVision assay, while another reported on the use of the test by academic collaborators in France to longitudinally monitor NSCLC patients being treated with EGFR inhibition to evaluate the dynamics of mutations over time and in response to therapy.
According to the authors, the sensitivity of the Inivata technology was 80 percent for detecting EGFR activating mutations and 100 percent for the EGFR T790M mutation compared to tissue biopsy sequencing results.
Based on the patterns observed, the researchers reported that allele frequencies of mutant ctDNA appeared to be correlated with response to treatment. In patients who saw a complete clearance of EGFR T790M, there was a corresponding partial response to AstraZeneca's osimertinib (Tagrisso). The team could also see the emergence of resistance mutations in plasma before the confirmation of clinical disease progression in eight patients.
Another 16 patients who had progressive disease showed no resistance mutations in their blood, but interestingly, these individuals all had exclusively brain or thoracic metastases, rather than systemic cancer progression.
Although EGFR mutations have been the first area where the clinic has embraced liquid biopsy, Inivata is hoping that it can persuade clinicians to adopt its broader approach over single-gene methods, based on the ability of its panel to inform across a variety of different clinically actionable biomarkers.
In this vein, Dana Farber oncologist Geoffrey Oxnard authored another presentation, which evaluated the InVision assay in a cohort of ALK- and ROS1-positive NSCLC patients, concluding that detection of alteration in these genes using Inivata's amplicon-based platform is "feasible in routine clinical practice," and showed "good sensitivity for clinically actionable structural rearrangements in untreated advanced NSCLC patients."
Alongside established companies, research at the meeting also featured more experimental platforms, like a mutation enrichment technology developed by Harvard Medical School researchers called nuclease-assisted mutation enrichment using probe overlap, or NaME-Pro.
Investigators discussed their development of the method and reported that they have been able to use it to detect blood-borne mutations at 0.01-0.1 percent levels with relatively few sequence reads. The team has also been applying the method to the monitoring of patient-specific mutations in late-stage breast cancer as a marker of lingering disease or a "tumor fingerprint." In serial dilutions down to 1,000-10,000-fold, the team could still detect at least one tumor-specific mutation in plasma.
Members of the team also presented results from an application of NaME-Pro to discern microsatellite instability.
Throughout the AACR meeting, presenters at various sessions echoed a view that the breadth of different platforms and the diversity of applications now being advanced is evidence of a shift in thinking about blood-based DNA analyses.
In what seems like a very short time period, discussants said, questions about the concordance of liquid biopsy and tissue testing that dominated earlier AACR and other professional meetings have been put aside, as researchers recognize that these tools are not necessarily competitors, but each have their own strengths and weaknesses.
Much the same now also appears to be taking place within the sphere of liquid biopsy technologies, as investigators nail down the application of individual platforms to specific niches, and as the oncology field as a whole continues to crystalize where it will embrace narrower versus broader profiling technologies.