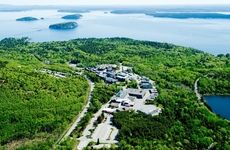 NEW YORK – Rachit Kumar knew his patient needed another treatment option. The elderly man's condition had deteriorated considerably, leaving him largely confined to bed, and conventional treatments were doing little to curb his metastatic prostate cancer.
Kumar, a medical oncologist working through the MaineGeneral Health system, decided to marshal the resources of the Maine Cancer Genomics Initiative (MCGI) to have his patient's tumor profiled and assessed through the initiative's genomic tumor boards, which are similar to the molecular tumor boards held for other precision medicine initiatives.
With panel sequencing, the team unearthed a possible vulnerability in this metastatic prostate cancer case: a BRCA2 mutation. That prompted Kumar — the MCGI principal investigator at the Harold Alfond Center for Cancer Care in Augusta, Maine — to prescribe the PARP inhibitor olaparib (AstraZeneca/Merck's Lynparza) off label to the advanced prostate cancer patient.
In the two years since starting on the drug, that patient has achieved complete remission. Moreover, "his performance status improved," Kumar said. "Now, he's walking around and doing everything he was doing normally before."
While olaparib has not been approved by the US Food and Drug Administration for patients with BRCA2-mutated prostate cancer, a paper published in the New England Journal of Medicine in 2015 suggested PARP inhibitors may be effective for some advanced prostate cancer patients with BRCA1/BRCA2 alterations — a notion that's backed up by other, more recent research.
Kumar's patient is one of more than 1,200 cancer patients in Maine who have enrolled in the MCGI — an effort spearheaded by the not-for-profit Jackson Laboratory (Jax) with more than $8 million in startup funding from Maine's Harold Alfond Foundation. According to experts involved with the initiative, it is unique in its ability to bring disparate community oncology practices together and provide precision oncology to cancer patients in Maine, many of whom live in rural, sparsely resourced communities.
According to Jax medical oncologist Jens Rueter, who is also medical director of MCGI, by the time the initiative rolled out in mid-2017, the experts at its helm wanted to explore what the impact would be if somatic tumor testing was provided to all Maine cancer patients.
The initiative includes more than a dozen practices across five health systems, involving around 92 percent of Maine's practicing oncologists. As a result, it includes patients treated at small, rural outreach clinics, urban oncology centers, and everywhere in between.
"This is done in a partnership between a non-clinical research organization and clinical institutions, and it's done across boundaries of healthcare systems," Rueter said, noting that it "took a lot of face-to-face meetings with physicians, primarily, but also with hospital leadership to get that buy-in."
Lincoln Nadauld, executive director of Intermountain Precision Genomics at Utah-based, not-for-profit Intermountain Healthcare, agrees. Nadauld, who participates on MCGI genomic tumor boards as an external expert, credited Rueter and his colleagues for their leadership on the effort and said the initiative is unique in the precision medicine arena at the moment.
"Their genomic tumor board services all of these disparate community practices. They're not all employed by the same group, they have different centers, different business models," Nadauld said, calling the precision medicine training provided to physicians in Maine, and the potential benefits for their patients, "pretty remarkable."
"I'm not aware of another place that is trying to get lots of community sites together under the umbrella of a third-party not-for-profit," he added.
Although there are many centers running precision medicine programs and molecular tumor boards, he noted, these programs are often supported by the institution itself, particularly at academic medical centers with faculty working in related fields. Even so, it can be a "wild card game" to get tumor genomic profiling paid for through insurance reimbursement or other models.
"Those institutions that are good at figuring out how to get it paid for, their programs thrive," Nadauld explained. "If they don't get it paid for, their programs suffer."
The MCGI program is also providing an opportunity for patients in rural parts of a relatively sparsely populated state to receive tumor profiling, despite being far from large urban centers or academic hospitals with established precision medicine programs.
For Kumar, who calls precision medicine "the future of oncology," participating in MCGI was a given.
"They were looking for a principal investigator at every site, so when it came to [the MaineGeneral Health system], I put my name forward," he remembers. "I knew it had the opportunity to make a difference in patients' lives."
Likewise, Allan Espinosa, a hematologist and oncologist who leads the Jefferson Cary Cancer Center in Caribou, Maine, which is part of Pines Health Services, believes the MCGI "directly impacts patient care."
In an email, Espinosa said the initiative has provided an additional layer of information and medical knowledge that can translate into time and resource savings, as well as expedited care, for patients in rural settings with limited resources.
The initiative is also being touted as a tool for educating oncologists about precision medicine, while getting a look at whether, and how, the information coming out of genomic tumor boards might improve patient care.
To get access to tumor genetic testing for their patients through MCGI, for example, oncologists must enroll themselves in a longitudinal MCGI survey study that is designed to look at their attitudes about genomic testing, their confidence in interpreting the data, and the way the information is being used for patients in the state over time.
After entering the study, oncologists can enroll any cancer patients from Maine who fit the initiative's relatively broad inclusion criteria. That includes any patient with a solid tumor who is well enough to undergo further treatment, based on their ECOG performance status, a standard tool for assessing patient well-being and anticipated ability to tolerate therapy.
The targeted sequencing panels used to evaluate patient samples have evolved over time, Espinosa explained, noting that the current panel profiles some 500 genes to assess tumor mutational burden (TMB) and reports mutation status for 209 cancer-related genes. The team also looks at microsatellite instability profiles for tumors, along with results from an RNA sequencing-based fusion assay.
The genomic profiling is carried out at a CLIA-certified and CAP-accredited clinical diagnostics lab that the Jackson Laboratory for Genomic Medicine operates in Connecticut and is complemented by information in the Jax Clinical Knowledgebase, the center's clinical interpretation infrastructure.
Along with patients who may benefit from PARP inhibitors, a typical meeting of the MCGI genomic tumor board can identify cases with molecular markers linked to everything from PI3-kinase inhibitor response to potential response to combination immunotherapy.
The MCGI genomic tumor board reports include references to the literature and clinical evidence supporting the rationale for a given targeted treatment to help clinicians navigate off-label drug reimbursement, when appropriate.
Members of the genomic tumor board, including external experts, also try to identify specific clinical trial options for patients, Rueter said, noting that the board often attempts to connect oncologists with investigators running trials inside and outside the state.
"We try to make it as easy [as possible] for clinicians to identify whether a trial would be a good option for their patients," he explained. "That makes it more tangible, rather than being an abstract thing."
A few of the practices participating in MCGI at the moment are larger and are currently running their own clinical trials, or arms of larger trials such as NCI MATCH, while other patients from Maine have been enrolled in clinical trials taking place at centers such as the Dana-Farber Cancer Center in Boston.
Still, access to clinical trials can be a barrier, particularly for patients treated at smaller centers or in rural parts of the state. Consequently, the team is considering strategies to continue improving Maine cancer patients' access to approved off-label and experimental drugs, when applicable.
"We're really hopeful that we will be able to recruit more clinical trials to Maine because of the infrastructure that we have built — that's the current goal," Rueter said. "Right now, [for MCGI] we're organized as one multi-site study. Can we leverage that network to attract clinical trial partners to come to Maine and provide more options to patients?"
Nadauld expressed optimism about the potential benefits of Maine-based clinical trials but cautioned that it can be tricky for small centers that are not part of a larger network to recruit onsite regulatory representatives with clinical trial experience, which trial sponsors typically require.
"In addition to access to genomic testing, you need access to regulatory oversight in order to launch a clinical trial," he said, noting that "in sparsely populated situations like this — or where there isn't an overarching single employer or single institution, and these are disparate individual sites — there's going to be a challenge in attracting clinical trials there."
Even so, the initiative is prompting enthusiasm about the possibility of providing precision medicine more broadly to cancer patients in Maine, and beyond. Indeed, Rueter noted that he has been in contact with other groups who are interested in learning more about the approach MCGI has taken so far to bring tumor profiling to Maine.
"There are a number of other groups that we've been in contact with that certainly are interested," Rueter said, adding that the team is looking at "a number of different models of how [to] export this model."
He and his colleagues are preparing to publish interim results from the effort, though it will likely be at least another year before data is in from the full initiative, which is aiming to assess 1,800 cancer patients.
So far, around 5 percent of patients enrolled in MCGI received a targeted treatment or were enrolled on a clinical trial, though Rueter noted that this number jumped considerably — to 10 percent or higher — for the subset of patients with potentially actionable variants identified in their tumors by panel sequencing.
At the Precision Medicine World Conference in California last month, Rueter said that MCGI genomic tumor boards have discussed some 400 patients, including patients from rural areas in northern parts of the state. "A lot of the patients are still on the targeted therapies that we've identified through the tumor boards," Rueter said at the meeting, though he emphasized that "we still need to work on actionability … [We need to] bring more clinical trials to the state and work on the therapy navigation. And we're not done in terms of increasing the interpretability [of genomic testing results]."
As MCGI investigators start to see the end approaching for the funded portion of the initiative, which is expected to wrap up when the enrollment goal is reached later this year, they are exploring options for continuing some form of the state's precision medicine program in the future, perhaps through a combination of insurance reimbursement for the panel sequencing done at Jax, further philanthropic funding, and research grants to human disease-focused investigators at Jax.
"Our current plan and business model for this is a multi-pronged approach," Rueter said. "We really want to continue funding some component of this infrastructure."